2018 Survival Guide "Basics" (printable): HERE!
2018 "Full" SCHEDULE & DETAILS (web): BELOW
Registration:  NY Marriott East Side (525 Lexington Ave) – Lobby, Far Back Left
FaceBook:  For The Most Up-To-Date Info (Discussion Tab – pinned post)
Find the Skate:  Click Here to Find Us During any Skate!
ALL GROUP-UPS:  (*Unless specified*)   Lexington Ave at 47th St (SW Corner) – Walk left out the front of the Marriott, Cross over 47th St. & then Cross over Lexington Ave to the right.. You'll see an open area with steps and chairs. Check out picture below
Map to Group-up from Marriott Here  |  Picture of Group-Up Here
*All Skates roll out 15 minutes after Group-up times (Listed below)*
*Footwear Required if taking public transportation at any time*

TNS – Empire's Tuesday Night Skate
NYCs longest running group skate!
Name: Tuesday Night Skate
Level: ADVANCED
Distance: 20 – 25 miles
Leader: Jim Marx!
Group-Up: 7:50 – Grand Army Plaza by the statue of General Sherman, at the intersection of Fifth Ave & 60th St.
(also the SE entrance to Central Park).
End: Usually a local bar with music (TBD)
Highlights: TNS is heading to Prospect Park in Brooklyn tonight where they'll do a lap of the park (if you choose).
Map to Grand Army Plaza from the Marriott
Picture of Grand Army Plaza
Why not start the week early with New York City's longest running group skate, rolling around since 1989.
The Empire Skate Club's Tuesday Night Skate (TNS) is for high intermediate and advanced street skaters well accustomed to skating after dark and skating in traffic. It will be the most difficult skate of the week.
TNS begins 1 mile from the Marriott Host Hotel. We roll out at 8:05 PM. Please let us know if you will be attending this skate and an escort will be provided to and from the Hotel.
A typical route is usually 20 – 25 miles. Frequently visited destinations include places in the Bronx (the Reservoir or the Zoo), over the George Washington Bridge to NJ, Queens (the Unisphere), Brooklyn (Prospect Park or Red Hook), and upper Manhattan (the Cloisters).
The skate ends about 11:00pm. Afterwards, depending on the week's route, skaters may hang out for a drink at a skate-friendly establishment in the West 80s or East 50s.
Please wear appropriate protection, including  a helmet and wrist guards. Light-colored or reflective clothing is very much recommended. Lights are also very helpful.
WNS – Wednesday Night Skate!!
Early Birds!! Come join NYCs always enjoyable, world famous, Wednesday Night Skate!
Distance: 12 – 14 miles
Leader: WNS Staff
Group-Up:  7:45 – Union Square South
End:  Drinks and socializing at @ 10:00pm!
There will be an escort to WNS from the hotel!
But if you feel like getting there on your own:
Skate to WNS from Hotel: Map Here
Subway to WNS from Hotel:  6 Train Map Here
Highlights:  We never know… WNS is its own thing! But you'll see the same skaters. It's a fairly casual, social skate around the streets of NYC. It may or may not include bridges, hills, ramps, overpasses, sidewalks, etc.  WNS is the largest intermediate, group skate in NYC.
Distance: As far as you can slalom…..
Leader:  Sonic
Group-up: 6:30 (for escort from front of Hotel)
NOTE: Sarai & the rest of the skaters will pick you up at the band-shell at the end of the clinic for our Thursday Evening Skate.
Highlights: We are lucky enough to have one of the most talented, diverse & awesome skaters & leaders as our very own. Sonic has graciously agreed to donate his typical Thursday night Slalom class to the BAR!! If you are at all interested in Slalom (at any level) you should take advantage of his class! It's FREE!
Thursday Evening Skate – Manhattan Skyline
Distance: 12 – 14 Miles
Leader:  Sarai Pegram (pronounced "Sara"!!)
Group-up: 7:45pm
See Route Map:  HERE
Highlights:
The first official skate of our Big Apple Roll weekend!! Meant for early birds and locals, Sarai will start out by skating past the New York Public Library & through the Grand Central Terminal Tunnel before picking up those skaters in Central Park attending Sonic's 7pm free workshop (ending at 8:30). Then she'll continue with more city touring, including Harlem, the West Side Path and Grant's Tomb.
Friday Morning Skate – By George, We're Going to Jersey!
Distance: 12 – 15 Miles
Leader:  Collar Pete
Group-up: 11:45am "On Foot" (or meet us at 12:45pm, upstairs at 190th St. station of the "A" Subway)
*Footwear Required
*Bring money for subway & lunch
See Route Map: (coming)
Highlights:
This is sure to be a memorable skate. Pete will take you places in northern Manhattan and New Jersey that we couldn't skate to with a large group.
To ensure that you'll have energy for the legendary Friday night skate, we'll use the subway to keep the miles and uphills to a minimum.  The skate will begin with a subway ride to the Ft. Tryon Park and the Cloisters Museum.  After skating around the park and taking in the views, we will head south to Riverbank State Park.  From there, the Manhattan Waterfront Greenway will take us north along the Hudson River to the site that inspired the children's book, "The Little Red Lighthouse and the Great Gray Bridge".
The south walkway of the Great Gray George Washington Bridge with impressive views of Manhattan will take us across the border to Fort Lee, New Jersey.  In Fort Lee, we have the option of entering the Fort Lee Historic Park and skating on a 2 to 3 mile gradual downhill under the George Washington Bridge and alongside the dramatic cliffs of the national landmark Palisades to the Englewood Boat Basin.  When we reach the shore of the Hudson River, we can have lunch at the Snack Shack (innovative food with a Cuban twist) or return to the top of the cliffs for lunch at Giovanni's Bicycle Club.  The climb to the top is significant and we may call upon Uber to transport us to the top if the group elects to make this descent to the river's edge.  If not, we have the option of skating along the top of the cliffs directly to Giovanni's.
After lunch, we will skate back across the George and, depending upon the time of day, we may skate part of the way south through the beautiful collegiate gothic campus of Manhattan's City College.
We intend to arrive back at the hotel around 4:30 pm so that there is plenty of time to register and rest up for the Friday night skate at 7 pm.
If you are a photography buff, bring your equipment…….the opportunities for dramatic photos are many!!
Late Skate Option:
If you can't join us at noon, consider taking the "A" subway to 181st Street so that you arrive at 2:00 pm and join us as we skate across the George Washington Bridge to lunch in New Jersey.
Please call (914) 262-7950 if you will be joining us at that point or elsewhere along the route.
Time: 4pm – 6:45pm
Location:  Marriott Hotel Lobby, Left Side
Waiver signing, Free Goodies, Raffle ticket sales for SkateIA Registration, Athens to Atlanta Entry, many skate discounts, fitness & skate bags, wheels, bearings, frames & t-shirts. Also T-Shirt sales & Distribution of Survival Guide (Final Schedule).
*ALL Skaters must sign the skate waiver and wear a wrist band. 
There may be Big Apple Roll Home-baked goodies to pick up! Last year there were very special handmade BAR cookies and home-made energy bars.
*Sign up for Saturday Night Pub Crawl (Starts around 9:30pm – space limited)
Friday Evening Skate – City Lights & Sights! + Fast Break
Distance: 12 – 15 Miles
Leader:  Sonic,  Co-Leader: Alan Grotheer
Group-up: 7pm
See Route Map: (coming)
*NOTE: There will be one or two options for catching up to us if you can't make the start. And you can use the Glympse link above to find us! 
Highlights:
Chrysler Building, Empire State Building, Flatiron Building, Madison Square Garden, Central Park, Museum Mile, 1st Avenue Tunnel, among others… And Times Square of course!
We'll have a fast breakaway towards the middle of the skate while the rest of the crew takes in some more sites in Midtown. PLEASE NOTE: The fast breakaway is truly FAST. Do NOT take this lightly. Take it on only if you are absolutely sure. Sonic is going to "break" you! (you've been warned!!)
We'll come back together for our famous "slow roll" down 7th Avenue and right through Times Square (still great fun even for us locals!). We'll hopefully stop for our iconic group photo op. The crowds LOVE seeing us skate by. We will definitely GET NOTICED!!
We'll then work our way back over to the east side, through the 1st Avenue Tunnel and roll right up to a great outdoor spot for drinks and simple food.
As is customary with most Friday night skates, we encourage you to "LIGHT YOURSELF UP"!! And the color is RED. Red lights, Red clothes, Be CrEaTiVe!! Glow sticks (FREE) and blinkies available at Registration.
Friday Night Post-Skate Drinks & Eats!!
We have a great spot to roll right into at the end of Friday's skate. Dag's Patio Cafe has agreed to stay open 2 hours past closing just for us (10pm-12am)! They will have a limited menu of inexpensive food that's still being ironed out (burgers, salads & yes, there will be vegetarian options). They also serve beer, wine, soft drinks and have an open bar!! It's on a large open plaza where we're sure to be seeing slalom cones setup very quickly.
Dag's Menu is Here & Prices are Great!
Dag's is located on Dag Hammarskjold Plaza (across from the U.N.). There are fountains & sculptures & several years ago they added the Katherine Hepburn Garden which is an oasis in the middle of the city. Tons of greenery. Stones etched with quotes uttered by Ms. Hepburn, a beautiful fountain and the very bench she owned and relaxed on. It's a very special place in the city.
If you can't make the skate meet us at Dag's at 9:45-10pm. It's an 8 minute walk from the hotel:  Walking map to Dag's Here
Dag's Patio Cafe
342 E 47th St
(47th St. & 1st Ave)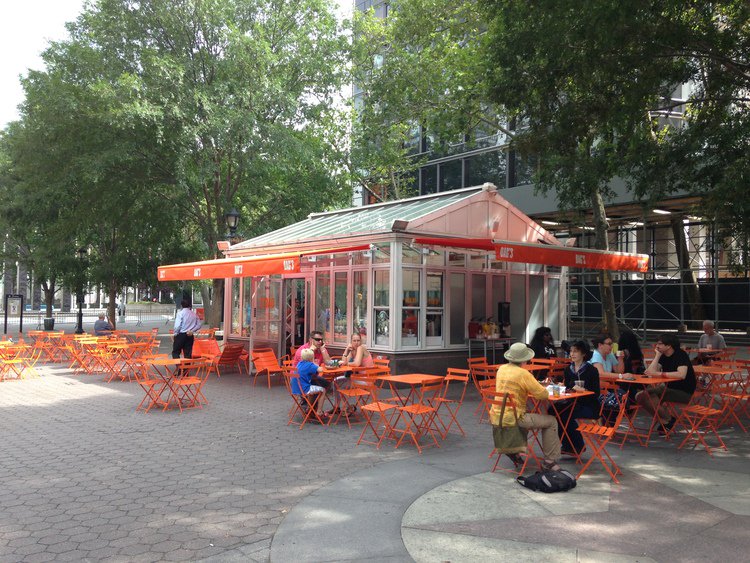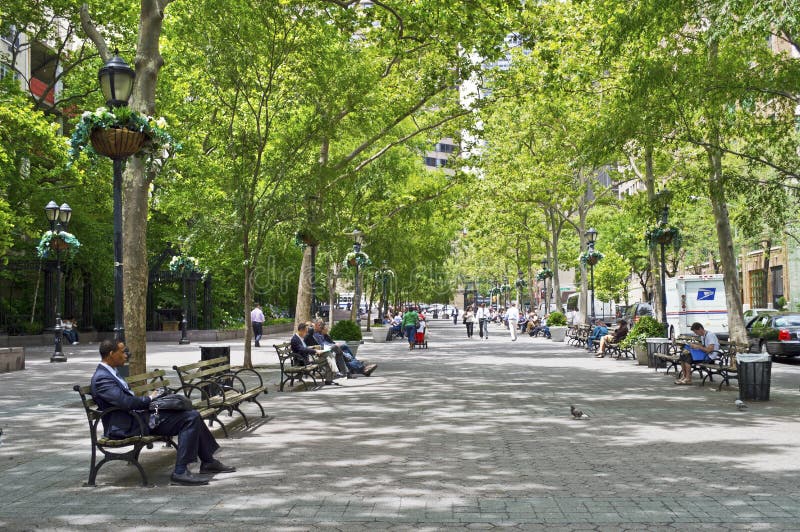 Time: 7:30am – 9am
Location:  Marriott Hotel Lobby, Back Left
If you didn't make it last night: ALL Skaters must sign the skate waiver and wear a wrist band. 
Waiver signing, Free Goodies, Raffle ticket sales for SkateIA Registration, Athens to Atlanta Entry, many skate discounts, fitness & skate bags, wheels, bearings, frames & t-shirts. Also T-Shirt sales & Distribution of Survival Guide (Final Schedule).
There may be Big Apple Roll Home-baked goodies to pick up! Last year there were very special handmade BAR cookies and home-made energy bars.
*Sign up for Saturday Night Pub Crawl (Starts around 9:30pm – space limited)
Saturday – Skate Around the Globe
Distance: ~19 Miles to Lunch (16 if you rest at the Unisphere)
Leader:  Collar Pete, Co-leader: TBD
Group-up: 9:15am
*Footwear Required if not skating the entire way back (and possibly for lunch)
*Money required for Tram or Subway
See Route Map (out):  HERE
See Route Map (back):  HERE
Other Options Back: See Below

Highlights:
We're skating to Flushing Meadows Corona Park, home to both the 1939 & 1964 World's Fair and the largest park in Queens (and fourth largest park in all of New York City).
We'll start out from the group-up location by skating through a section of NYC's "Summer Streets", enter Central Park and exit at the north end of the park. We'll head over to Randall's Island for some smooth trails and then up and over the RFK Bridge into Astoria, Queens.
The remainder of the route is relatively flat and will take us east through Astoria and along LaGuardia Airport where we will stop at Planeview Park for an up-close view of the airplanes. When we exit the park, we will continue east and eventually enter the Flushing Meadows Promenade where we will skate along the bay to the Mets Citifield and into Flushing Meadows Corona Park where we will visit the USTA Billie Jean King National Tennis Center, the New York Hall of Science, the Terrace on the Park, the Queens Zoo, the New York State Pavilion and, finally, one of the borough's most enduring symbols – the Unisphere. We'll also make a stop at the Maloof Skate Park, next to the NY State Pavilion which was used as a roller rink after 1965.
Two large concrete pools that are no longer filled each summer by the city should offer the skaters an opportunity for some freestyle skating and fun!
Lunch will be in Flushing in the park or the area surrounding the park… The specific venue will be announced soon and we may require payment for lunch at registration if we choose to have lunch catered.
Options for After Lunch:
The main group will take a more direct route back to Roosevelt Island & explore newly designed sections of the island, depending on energy level. Then we'll take the Roosevelt Island Tram back over to Manhattan (bikes are welcome). It's a 5 min skate or 15 min walk back to the hotel from there. Tram is $2.75 (The views are really cool!)
Continue with the more direct route and instead of Roosevelt Island, head straight over the 59th Street Bridge which parallels the tram. Then it's a 5 min skate or 15 min walk back to the hotel.
Take the #7 Subway directly back from Flushing Meadow Corona Park to Grand Central Station and you'll be six blocks from the hotel.
Saturday Night Entertainment!!
We've just managed to secure a really cool outdoor spot on a rooftop terrace on the West Side of Manhattan, with views of Lincoln Center and the city.
Let us know your interest at Registration. While a little pricier, the location is worth it. It's a 30 min walk, a 20 min. combination of walking and 1 subway stop, or a 10 minute, $10-$15 Uber ride.
Later (around 9-9:30pm): Andrew will be hosting the popular Pub Crawl that has been a big hit for many people for the last few years. ** You must sign up for the Pub crawl at Registration. There is limited space.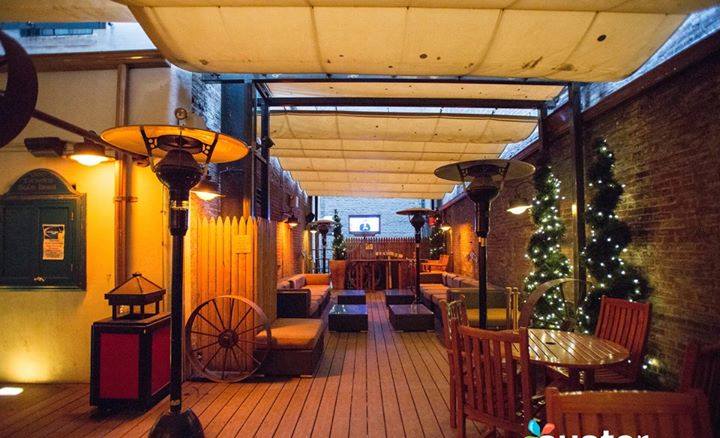 Sunday Morning Skate – Jack's Choice
Distance: 12 – 14 Miles
Leader:  Sarai (with an i) Pegram
Group-up: 9:15am
See Route Map:  HERE
Note: Unfortunately the designer of this skate, Jack "WNS" Facchin, had an injury and will not be able to lead or join us this weekend. Heal quickly Jack! And thanks for the route!
Highlights:
We will be skating to Astoria, Queens, where you'll enjoy East side of Manhattan Skyline views from the Queens/Brooklyn waterfront. You'll also see the iconic Pepsi sign, now a landmark. And we'll be stopping at the Astoria Park Skatepark, right under the RFK bridge to see some of our more aggressive friends showing off their tricks.
Don't worry, Sarai will have us back to the hotel in time for a shower & Checkout (1pm checkout).
For Those Staying at the Hotel – 1pm is the Official Checkout. 

You can store luggage with the Concierge for $1. And our club room "may" be available for a quick shower later!! (no promises)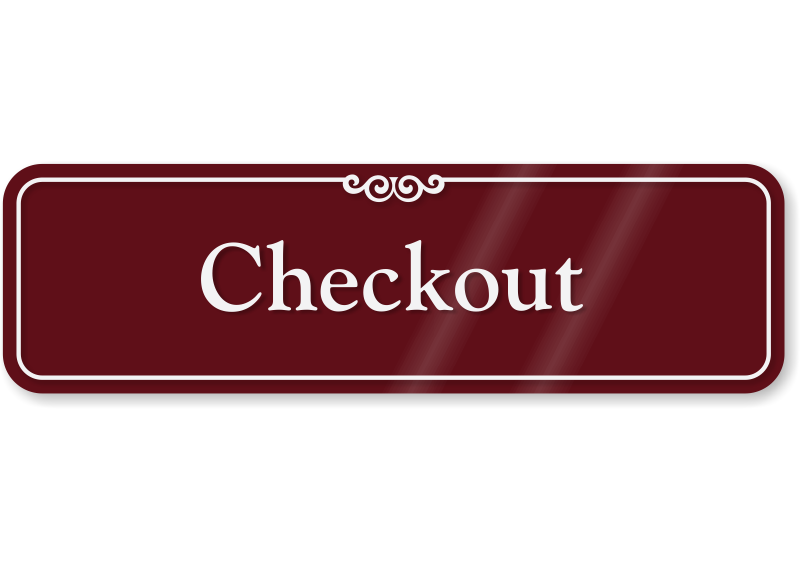 Central Park Dance, Slalom & People Watching
Instead of a Sunday afternoon skate, come meet us at the Central Park Band Shell & watch or join-in with the Central Park Dance Skaters (blades welcome), local slalomers, do a couple of laps, or just hang out, relax & people-watch. You've earned it!!
We'll announce an escort from the front of the hotel.
Distance: 2 miles (15 min skate)
Directions:
Turn right out of the hotel (N)
Left on 49th (W) (past Rockefeller Plaza on Right)
Right on 6th Ave (past Radio City Music Hall on Right)
10 Blocks up to 59th St and straight into the Park
Stay on Center Drive (to the right). It becomes East Drive. Keep going until you pass Summer Stage (on the left) and 72nd Street exit on Right.
Bear Left on Terrace Drive until you get to the Cobblestones.
Turn Left to the Band Shell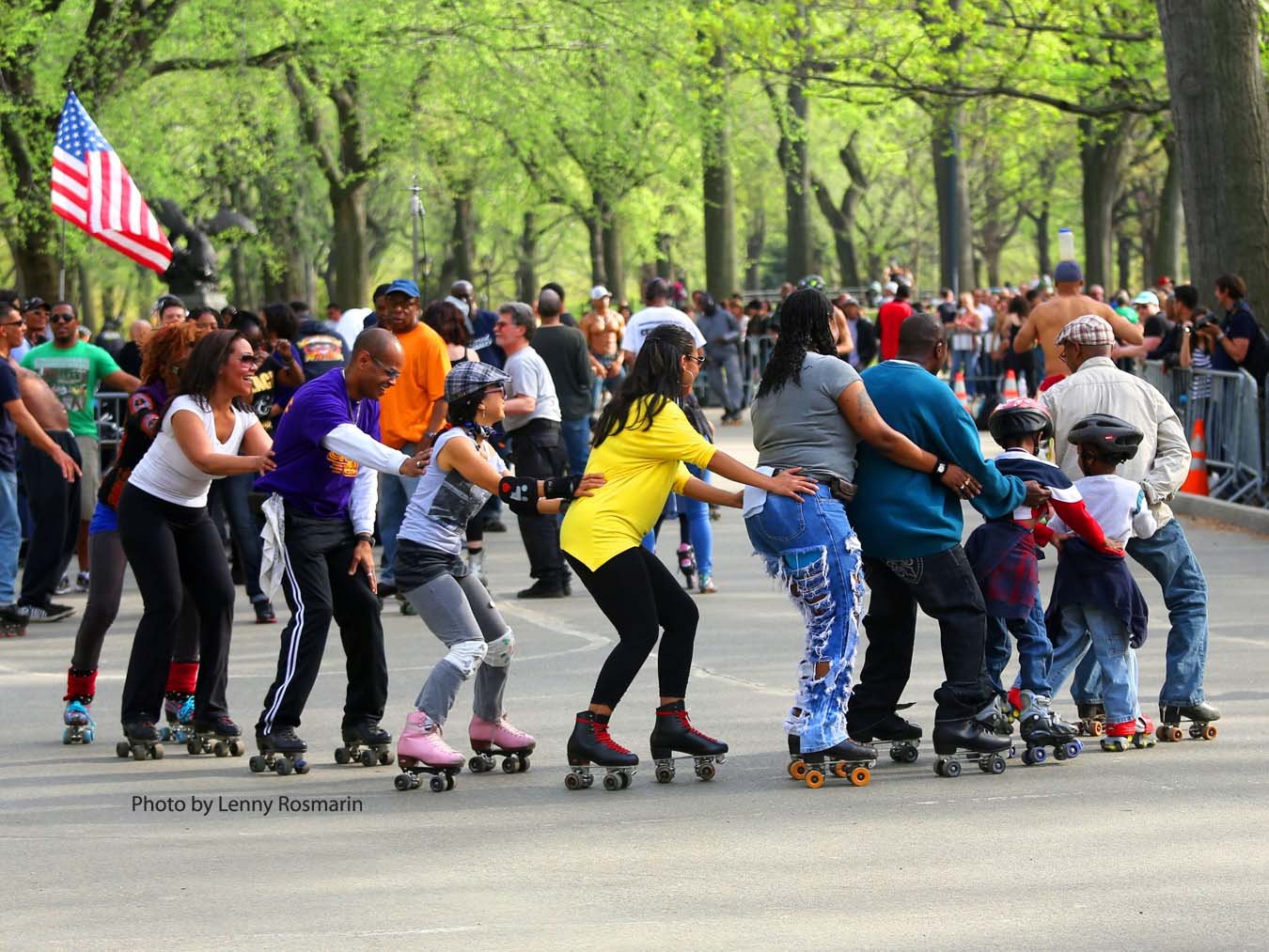 Select date to see events.